Professionally Trained Commerical Movers
MartinCFS is a Lancaster, PA based commercial moving company that provides office relocation services for both small businesses and large corporations across the USA.

Our team of expert commercial movers are ready to help you move your business. Whether you need assistance with packing up your office or need office installation services to ensure that your new space is set up just the way you want it, we are here for you!

Let us help you with your move. Call us today!
Ready to Start the Moving Process?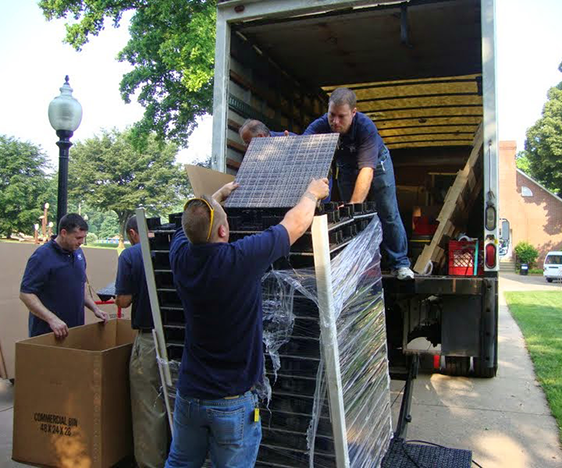 Why Should You Choose Our Office Relocation Services?
Is your business looking for office relocation, but you're not sure where to start?

Moving a business can be disruptive and time-consuming for both employees and clients. The perfect solution for completely hassle-free office relocation services is MartinCFS. With our quick and efficient process, our exceptional team of commercial movers will take care of everything for you — so you can focus on running your business.

Whether you're moving down the street or across the USA, MartinCFS can help you have a stress-free experience. Contact our team to find out how we can help your business.
Our Proven Track Record of Corporate & Business Relocation Services
While relocating for business, you want an expert and trustworthy moving company that can handle all your belongings with care while also providing outstanding customer service. MartinCFS is the best choice for corporate and business relocation because of our commitment to excellence in customer service, our extensive experience with office relocation services, and our understanding of the needs of businesses.
As a company that has been specializing in I.T. relocation and corporate relocation services for 30 years, we know that every client's needs are different. That is why we make it our mission to understand your business goals and objectives before we begin planning your move. We want you to be as comfortable with us as possible so that your move can proceed as smoothly as possible.
Worried about how challenges will be handled if they arise? Our experienced team are also specialized in project management and can handle any kind of relocation challenge you may encounter during the course of your move. Our team has moved many companies, which means we have seen just about every situation imaginable when it comes to moving. We will do whatever it takes to ensure that your business move goes smoothly from start to finish.
Ready for A Hassle Free Experience? Choose Our Commerical Moving Company
When it comes to moving offices, there are no short cuts —you have to do it right the first time if you want to avoid costly mistakes later. Our commercial moving company, based out of Lancaster PA, can handle any office relocation, no matter how large or small, without taking shortcuts. Our commercial movers will work with you to plan the move and make sure that everything is taken care of from start to finish. So, if you're looking for one of the best commercial relocation services in the industry, MartinCFS is the way to go. Our commercial movers are ready to help make your move stress-free, so contact us today!
Let Us Help You With Your
What You Can Expect From An Office Relocation
Pre Move
Discuss and develop overall office relocation plan
Determine services that will be needed
Create/review space planning/layouts
Assess furniture, equipment, and storage needs
Outline dates, timing, and schedule requirements
Provide/coordinate special services: Phone, Data, Rigging, etc
Move
Deliver packing and other materials to new office location
Support packing, e.g. File/storage systems, labeling
Support customer move preparation
Coordinate delivery and installation of new office furniture and equipment
Execute the relocation of existing contents
Remove any surplus to storage/sale/donation/disposal
Post Move
Complete set up of office, production, and storage areas
Assist with unpacking and settling-in process
Exit cleaning & repair of vacated site
Follow up to support additional needs